Have A Home-Grown Memorial Day Weekend On Your Stylish New Patio
Memorial Day is the last Monday in May, a day set aside to remember and honor all military Veterans who died in service to their country. Because of those sacrifices, we can also celebrate our precious freedoms on Memorial Day with parades, ceremonies, and gatherings of all kinds:
Neighborhood block parties and fireworks
Home barbeques with family and friends
Picnics and games in local parks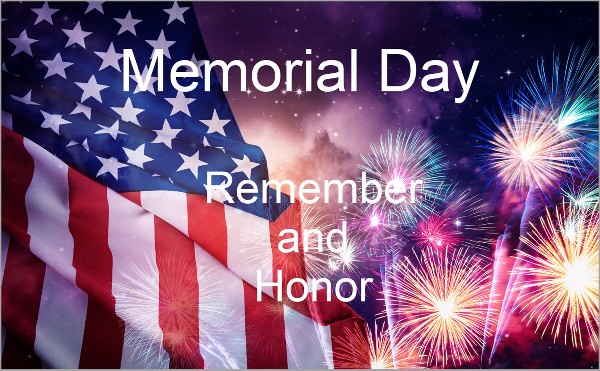 Create memories with celebrations and remembrances of loved ones
Memorial Day is part of a three-day weekend that also celebrates the unofficial beginning of summer. Spending time with family is always important and making this weekend about togetherness will create memories to last a lifetime. With warmer weather, getting your outdoor living spaces updated will make your own backyard the perfect destination for weekend activities of all kinds, including barbeques, picnics, outdoor movies, and games for everyone such as croquet, badminton, lawn darts, and Corn Hole. If your patio is not party-ready, there's still time for a makeover for not only Memorial Day festivities, but every weekend and holiday going forward.
Patio excellence starts with the floor
One of the best ways to have an inviting concrete patio is to update the plain gray concrete to a decorative concrete finish that is beautiful and easy care. Concrete Craft® has a variety of concrete designs and finishes that can transform any patio, porch, or pool deck into an ideal entertainment space. With stained concrete, stamped concrete, polished concrete, and various resurfacing systems, your patio can become stylish with color, shine, texture, and faux stone or wood designs you'll love! And the industry-tough sealed surfaces mean that you'll never again have to scrub stains from the concrete or worry about cracks and damage.
Moisture-resistant qualities eliminate mold and bacteria growth common to outdoor spaces.
Nothing sticks to the surface, so spills wipe right up.
Sweeping keeps the patio clean or wash stubborn dirt with mild soapy water, no chemical cleaners ever needed.
Patio furniture won't scratch the surface.
Make a small patio big on space
Give a small patio distinguished presence with a custom faux stone stamped concrete pattern and seat walls to expand seating capacity and frame the space. This patio received a resurfacing concrete overlay that was stamped with an Ashlar slate design and a seat wall of hand-carved stacked stone in resurfaced vertical concrete. Multiple stain colors emulate the natural look of stone for an authentic looking, fabulous faux stone patio. Turn an outdated or damaged patio into welcoming activity space with room for family and guests.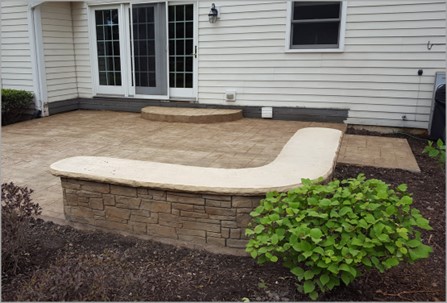 Small spaces can become exquisitely functional with decorative concrete enhancements that maximize the space
Other popular stamped concrete patterns include flagstone, cobblestone, textured slate, brick, and wood plank designs.
Stained concrete or polished concrete are budget-friendly solutions for updating a patio without the need for a concrete overlay.
Installation usually takes one to three days total, and your patio is back in service.
Optimize large patio living
Sometimes large outdoor spaces can be chaotic and not very useful if they are worn, cracked, and dirty. Decorative concrete can renovate a large space by making it clean, durable, and easy to maintain so you can begin to use the whole yard. A big patio or patio and pool deck combination can give more latitude for built-in amenities like a fireplace or fire pit and multiple seat walls to define areas and add convenient seating. Set up multiple activity areas for kids, teens, and adults like conversation groups of patio furniture, a hot tub, and courts for basketball, hopscotch, or shuffleboard. An outdoor kitchen or barbeque and eating area will facilitate outdoor fun all year long.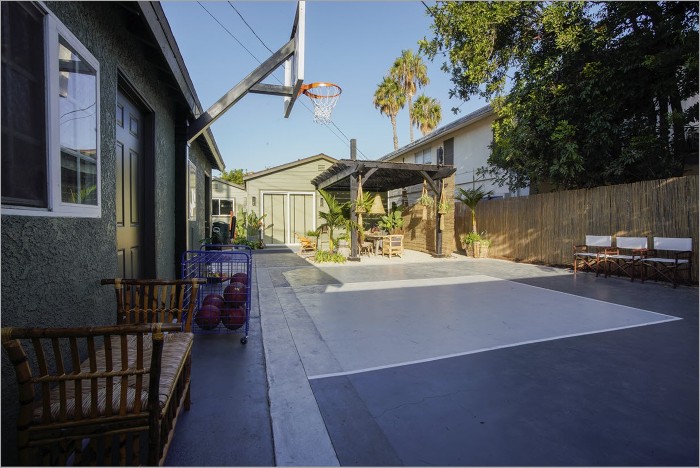 Create an uninterrupted activity flow from the house to the yard, making your whole backyard an entertainment arena
Wonderful wood designs that last and last
Wood patios and decks are trending more than ever with the increased interest in farmhouse styling. But outdoor wood surfaces can be easily damaged by weather, causing warping, fading, splintering, and mold, completely spoiling the look. Outdoor wood surfaces often require continuous maintenance and repair, with eventual replacement due to deterioration. Faux wood decorative concrete finishes look like the real thing since our wood plank stamps are cast from real wooden planks to provide realistic textures and designs from a smooth, sanded look to a rough, reclaimed wood finish.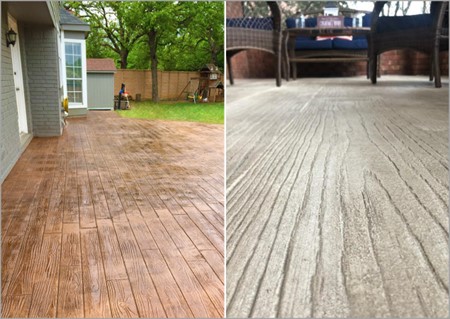 Decorative concrete "wood" flooring can withstand weather extremes so it's a great way to have a wood look patio without the inherent problems of wood
Although looking and feeling like wood, the surface is sealed to resist stains, moisture, and dirt that can damage real wood.
Emulate nature's wood tones with multiple concrete stain colors to create authentic representations or customize to a color of your own design.
Enjoy the look and texture of real wood for vertical surfaces like retaining walls, planters, seat walls, and siding with vertical concrete resurfacing.
Take time to honor Memorial Day
In conjunction with all the long weekend's fun activities, take time with your family to honor the day. Here are some ideas and tips to create memorable moments around the holiday that will make it real and meaningful.
Attend a Memorial Day event: Many towns and cities celebrate Memorial Day with parades and community events for the entire family, combining education, excitement, and the outdoors. Or virtually attend the annual National Memorial Day Concert on PBS, Sunday, May 29, 2022, 8:00 p.m. ET. Check local listings or stream live here.
Decorate with patriotic colors: Wave our red, white, and blue with pride! Fly the flag or place small flags in planters, along a walkway, or in the garden. String red, white, and blue lights for daytime and nighttime adornment.
Volunteer as a family: Volunteering is a great way to pay it forward and teach children about selfless giving, echoing the spirit of Memorial Day. Mow an elderly neighbor's lawn, deliver a meal to a Veteran, or serve at a community soup kitchen.
Honor the fallen: Visit a local war memorial and pay tribute with flowers or flags on graves.
Host a family BBQ on Memorial Day: Get family and friends together to remember loved ones and share stories, along with fabulous food and fun activities. Check out 60 Recipes For The Perfect Memorial Day BBQ

, including red, white, and blue desserts.
Let Concrete Craft help you get ready for summer by starting with a patio makeover for Memorial Day weekend. Once installed, you'll never worry about the state of your patio again. Call 888-852-9244 today or go online to www.concretecraft.com to find the Concrete Craft location nearest you and request a free in-home or virtual* consultation to see how decorative concrete can enhance your home both indoors and out.
*Virtual consultations may not be available at every location