Stamped Concrete Delivers Realistic Stone And Wood Finishes
Stamped concrete overlays bring affordability to decorating your outdoor and indoor spaces with the beauty of natural-looking faux stone and wood enhancements. It's always the right time for stamped concrete because concrete stamps can be applied to a new concrete pour before it hardens to create stone and wood texture finishes that can be custom stained for authentic looking stone, rock, or wood. Additionally, existing slabs can be revitalized with a resurfacing concrete overlay that hides damage or discoloration, presenting a fresh surface for stamping. So whatever stage of renovation you're at, Concrete Craft's® stamped concrete designs can be the solution for elegant, durable finishes.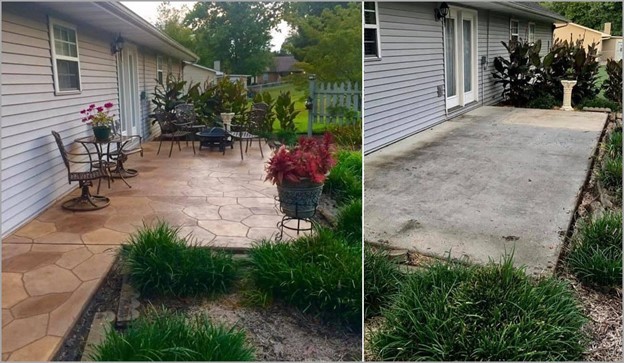 What a difference a day (or two) makes! Transform existing concrete into a work of art with a stamped concrete overlay, such as this flagstone patio
Stamped concrete, commonly referred to as patterned concrete or imprinted concrete, uses rubber stamps designed from real stone and wood molds to imprint the concrete to resemble natural slate, cobblestone, flagstone, and various wood planks. Our custom stained concrete colors and stamp patterns look authentic and can be designed to easily blend with any existing stone, wood, or patterned concrete. You never have to wait for shipments of stone or wood plank since our decorative concrete finishes are created on-site, so your project is completed much quicker with less mess, less expense, and no endless hours of laying individual stones or wood planks.
True beauty and texture of natural stone
Stamped concrete can deliver the look of grouted stone as well as texturized finishes so realistic that only you will know it's not the real thing. The grout lines are part of the overall, seamless surface so you never have the negatives of real grout such as stones lifting or grass and weeds intruding. That makes large areas, like driveways and pool decks excellent candidates for faux stone finishes that would be cost and maintenance prohibitive in real stone.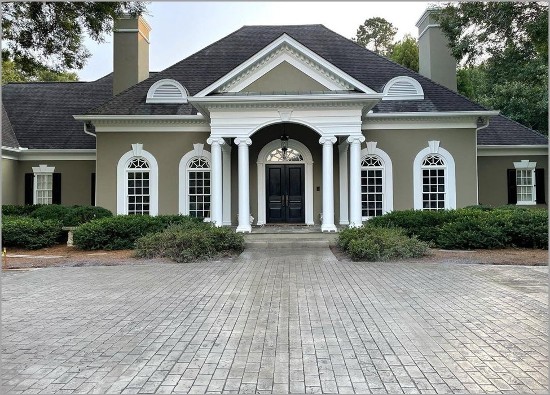 A cobblestone driveway is not the impossible dream with affordable stamped concrete that practically takes care of itself
Replicate the look of flagstone, cobblestone, Roman slate, Ashlar slate, brick, and natural stone for the look of high-end, custom stonework for about half the cost of the real materials.
If you love the look of weathered or aged stone for an entryway, kitchen, or basement, custom textures and concrete stains can create natural-looking depth and dimension that comes with age.
Our highlighting and antiquing products have integral UV-resistant colors and, in combination with our industry-tough sealers, create beautiful, low-maintenance surfaces for years of enjoyment.
No limitations on wood plank designs indoors or out
Real wood floors have limitations on where it's safe to use them, such as rooms with high humidity or outside surfaces where weather takes a toll. With stamped concrete faux wood designs, you can have the look of wood anywhere inside or outside your home without the worries of warping, splintering, dry rot, and staining that can impact real wood. The sealed surface of concrete wood floors is impervious to any of these problems, including moisture, stains, cracking, and peeling. You can safely install wood look floors in any style from classically smooth to inherent textures of distressed or reclaimed wood, stained in natural wood tones from light to dark.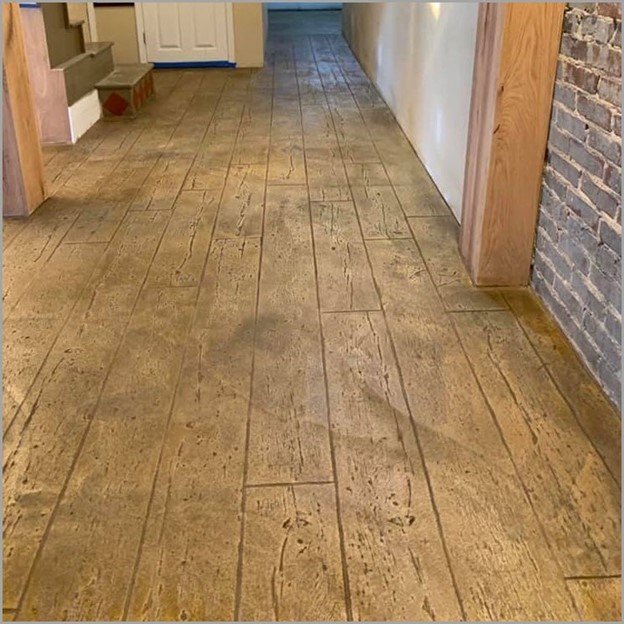 Custom design lets you choose plank width, length, level of texture, and stain colors for exactly the ambiance you want
Weather-resistant sealer makes faux wood flooring appropriate for outdoor patios and walkways with "planks" that won't warp, splinter or tear like real wood.
Hand-applied custom stains ensure an overall, even coloring throughout the space which real wood can't always provide.
Since stamped concrete overlays apply over existing surfaces, floor installation goes quickly compared to laying real hardwood.
Update your vertical surfaces with faux finishes in concrete
Stone and wood façades are the ultimate detail to transform indoor and outdoor vertical spaces. Adding accent walls of stone to kitchens or rustic wood to living rooms completely changes the mood for some serious redecorating. Vertical concrete resurfacing can update fireplaces without removing the existing surround as well as modernize your home with faux stone siding, entryway pillars, steps, and posts for enhanced curb appeal. Applied over brick, plaster, drywall, wood, or concrete, the stamped wood or hand-carved stone designs create realistic and natural looking textures.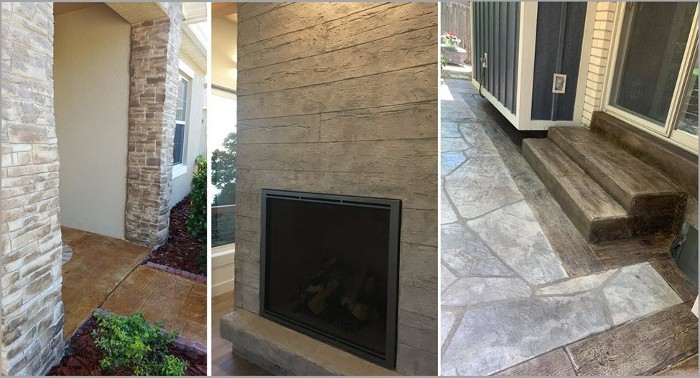 With the ability to apply decorative stamped concrete on floors or vertically, the options to update and add value to your home are endless
The weight of real stone can make stonework prohibitive in some circumstances, but with our resurfaced concrete overlays, accent walls, backsplashes, and fireplace refacing can embrace the beauty of stone without worry.
Our vertical concrete resurfacing systems create 100% adhesion to the surface with no air pockets or space for moisture to seep in to weaken the bond.
Sealed surfaces are easy to clean with mild soap and water, including fireplace soot and outside dirt and grime.
Handle all your concrete needs in one place
For incredible decorative concrete transformations, all you need to know is Concrete Craft! We are the largest decorative concrete franchise in North America, and with our proprietary products and techniques we can repair, restore, transform, and beautify any concrete surfaces you have. We'll come to you with real samples of finishes and colors and help you determine the best options to update and renew your home or business with decorative concrete.
We're the local experts for stained concrete, stamped concrete, resurfaced concrete overlays, and vertical concrete resurfacing for interior and exterior floors and vertical surfaces.
We can repair and restore damaged concrete surfaces, so you can avoid the nightmare and expense of demolition and replacement of good concrete gone bad.
Prepping the surface, applying the overlay, stamping the pattern, and staining and sealing generally takes only a few days to complete and your space is back in service.
You can trust our exclusive MasterProTM products that are the result of 15 years of testing and perfecting for performance-grade resurfacing mixes that are superior to other applications.
Call 888-852-9244 today or go online to www.concretecraft.com to find the Concrete Craft location nearest you and request an in-home or virtual* design consultation and see the many ways that stamped concrete can bring the beauty of stone and wood into your surroundings.
*Virtual consultations may not be available at every location