Switch it Up: 5 Stamped Concrete Patterns To Use in Your Home
If you've ever had a hardscaping or driveway project, chances are you are familiar with stamped concrete and its different patterns. Stamped concrete is a type of concrete flooring that uses stamps and a focused technique to create a variety of floor patterns.
The objective of stamped concrete is to create the aesthetic of luxury without the high investment. Our contractors use stamp molds to make textures and patterns on concrete, which removes the fuss of using complicated and expensive materials.
After stamping, the concrete can look like tiles, slate, pavers, worn rock, flagstones, or other distinctive materials. It can have a glossy or textured coating to appear rough, like brick and sandstone.
Why use stamped concrete patterns
Fewer maintenance needs
The stamped concrete surface requires minimal maintenance. For instance, a wood plank pattern won't require annual refinishing, just as a tile pattern would not require grout resealing. This aspect saves you both money and time.
Considering that stamped concrete is a continuous piece of concrete, you won't have concerns over scratches or cracks. Periodic washing to prevent dirt build-up on the sealant is the only maintenance typically needed.
Cost-effective alternative
Stamped concrete is an economical choice upfront to expand your design choices in your home. You are using less expensive materials to provide the visual appeal that would cost you more if you chose materials such as granite. Also, its longevity, durability, and ease of maintenance make it a great cost-effective alternative.
5 stamped concrete patterns and colors
The pattern and color options for concrete stamps are endless, and homeowners can request a wide variety of customizations. Five popular stamped concrete patterns to use in your home include:
Cobblestone concrete stamp
Imagine the look and feel of the old streets of Paris or England, paved plazas, and European courtyards. Cobblestone concrete stamps are the patterns behind such an elegant conventional theme. The stone carries the old-fashioned charm when incorporated into the patio or driveway design. Taking it indoors, cobblestone concrete stamps are the perfect accent to use around your fireplace.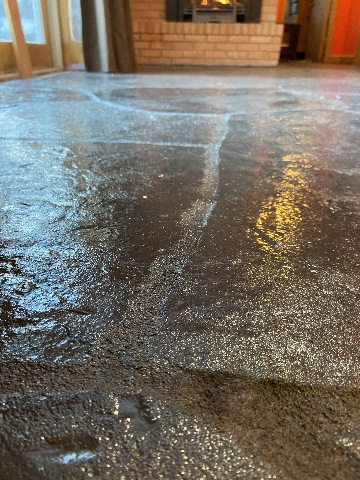 Although a modern type is usually granite shaped to appear like cobbles, stamped concrete provides a similar look for less. People usually choose different shades of gray to make the concrete resemble stone.
Contractors can craft various concrete stain colors to give you the exact look you want. Premium colors such as reds, blues, grays, and browns in natural stone permeate the concrete surface and enhance its realistic appearance. This pattern can definitely add a durable characteristic and charm to your yard.
Wood plank concrete
Another pattern you can use for your home is wood plank concrete. Wood decks and patios are popular for outdoor living spaces, and stamped decorative concrete patterns will provide a real wood appearance with the durability of concrete. It's also a great alternative to wood floors in your kitchen or mudroom where traditional hardwood would be quickly worn out.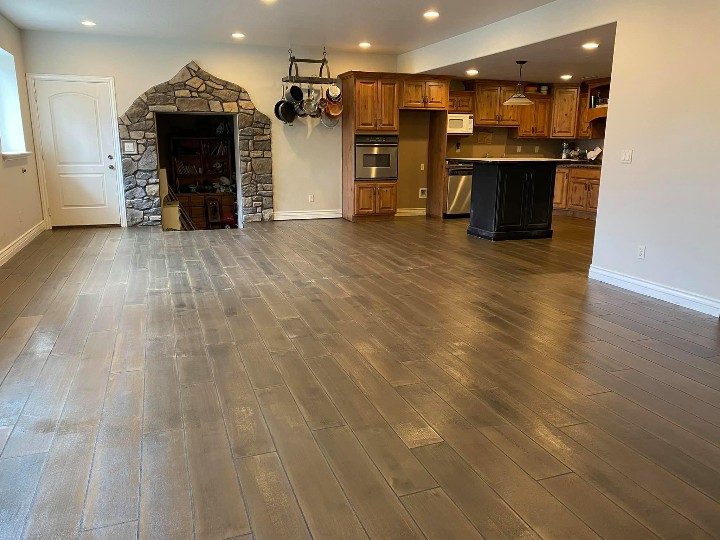 Stamped concrete is long-lasting, unlike real wood surfaces that splinter, discolor, dry out, and become susceptible to wood rot and termite damage. The wood plank stamp patterns can be wider planks, smooth and textured finishes, reclaimed wood, or distressed wood.
Flagstone
Flagstone is a popular option for bathrooms, patios, or pool deck concrete stamps and gives a real stone look. Different colors can come in, including reds, grays, and browns. Flagstones can be custom colored to improve or coordinate with the surroundings and sized to fit the space in large and small patios.
Besides, creating a random pattern of small and large stones and color mixes provides a natural appearance to the natural appearance of the flagstone design. The craft greatly enhances your spaces through light neutrals, warm browns, and multicolored stones.
Roman slate
Roman slate is among the simplest stamped concrete design options available, giving a distinguishable look from the traditional smooth concrete finish. A significant similarity emerges from the fact that roman slate is common in big continuous slabs or huge tile designs. However, the Roman slate provides a significant variance with plain concrete. Their design aims to replicate the natural patterns in stones to give a more upscale appearance.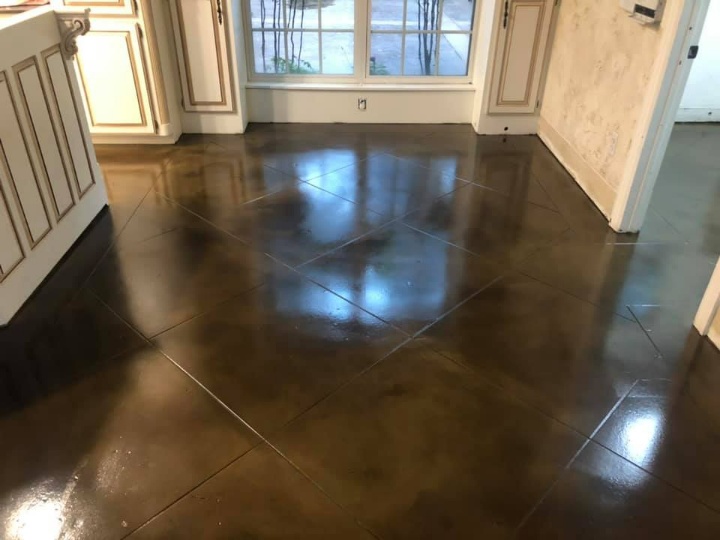 Ashlar slate
Ashlar is a random configuration of rectangles and squares, creating a geometric pattern. The slate is great for the entryways and hallways of your home. The finish can be heavily textured or smooth, while custom coloring could be with single or multiple colors for a three-dimensional appearance.
The good thing with ashlar slate is its compatibility with many architectural styles depending on the color and finish selected. Its pattern can be a combination of large, medium, and small stones. Stamped concrete designs in your indoor living space extensions give a good style and taste where you place the pizza ovens, patio furniture, seat walls, and barbeque grills.
Switch it up today!
Stamped concrete is a low-maintenance and visually appealing alternative to more expensive building materials is what your home needs. It is ideal for patios, basement, walkways, countertops, inferior floors, pool decks, interior floors, and driveways and significantly increases the curb appeal. You get an imprint with an appearance and texture of wood planks, natural stone, or brick.
Contact us for a free consultation today.