Three Ways To Make Your Concrete Floors Look Like Marble
The beauty and elegance of marble floors in undeniable. Its ageless beauty and iconic style make it one of the most sought-after materials for flooring with discriminating homeowners and business owners. But don't get blinded by the shine of polished marble before you take a careful look at the pros and cons of marble flooring, as well as the fact that concrete floors can be made to look like marble but at a fraction of the cost! Concrete Craft® can give your home or business the look of marble without all the hassles of real marble, from design and installation to daily and ongoing maintenance requirements with our premium MasterPro FinishTM decorative concrete systems.
MarbleKoat
Stained concrete
Polished concrete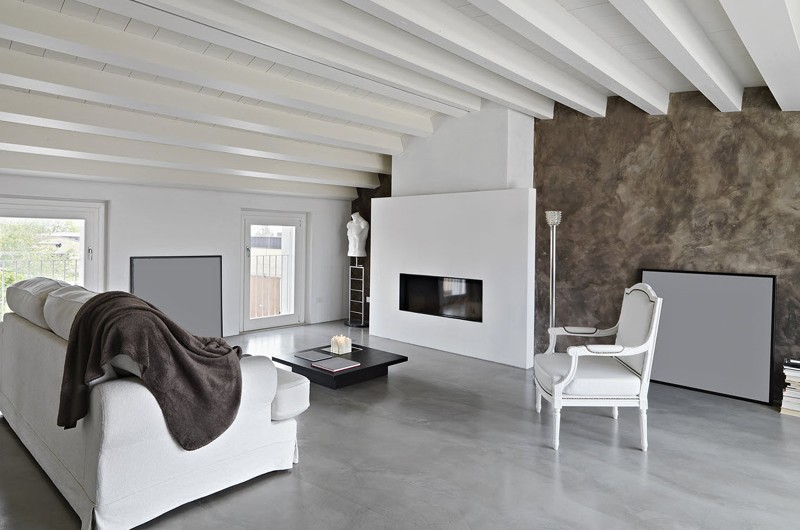 MarbleKoat can emulate the designer-look of polished marble but with a tough and durable surface that you can actually live on (pictured is Pearl Grey)
MarbleKoat can transform ordinary floors into extraordinary floors. You can bring the elegance of polished marble into your home without the worries of real marble that include staining, cracking, and chipping. The MarbleKoat finish is resistant to moisture, stains, spills, and impact and requires minimal upkeep to keep it like new. The finish will never chip, crack, or peel.
Spills wipe right up since nothing penetrates the moisture-resistant, tough sealed surface.
The seamless floor stays immaculate with a dust mop and occasional wet mop with a gentle cleaner.
MarbleKoat is available in six standard colors; White, Champagne, Vision, Cocoa, Pearl Grey and Dark Grey for any aesthetic you desire.
Inherent problems of real marble flooring
Before we look at other ways Concrete Craft can help with elegant marble-look floors, here's a checklist of six things to consider if you're seriously considering marble. Marble floors come at a price in more ways than just dollars and cents (which is considerable).
One: Because marble designs are unique and one of a kind, replacing a damaged portion can be difficult, if not impossible. Matching the veining pattern of the floor can be a frustrating treasure hunt to find a design that's even close. Buying extra marble tiles as repair backup is a precautionary extra cost.
Two: Marble is a soft, porous material so liquids of any kind can to be easily absorbed. This can result in permanent damage and discoloration to your marble flooring. Regular resealing can offset this but adds to ongoing maintenance costs.
Three: Marble is susceptible to scratching, chipping, and cracking and its smooth surface makes any damage obvious. Even pets' nails can mar the surface of marble. You'll need marble repair kits on hand and patience to restore minor damage or keep a professional restorer on speed-dial.
Four: Polished marble floors can be slippery, especially when wet, and they're not recommended for bathrooms and kitchens or in homes with family members at risk of falling.
Five: Marble is one of the more expensive flooring materials, ranging in cost from $5 to $50 per square foot. This is without installation which averages $3 to $7 per square foot, and don't forget the extra tiles for future repair/replacement.
Six: Marble flooring requires consistent maintenance, including daily cleaning with special cleaners, prompt attention to spills, and regular sealing once or twice a year. To restore dull marble finishes, call in a professional to clean, polish, and seal the floors.
Stained concrete for the elegant look of marble
Acid-based concrete stains create the elegant look of marble by reacting chemically with the concrete to form translucent color and marbling effects. Multiple stain colors can create the effect of veining, a hallmark of marble. For an existing damaged floor, a concrete overlay will hide cracks, fill in uneven spots, and cover discoloration to present a fresh surface for consistent staining throughout the space. The sealed, seamless surface produces vibrant, long-lasting color and shine, impervious to spills, chips, or cracks.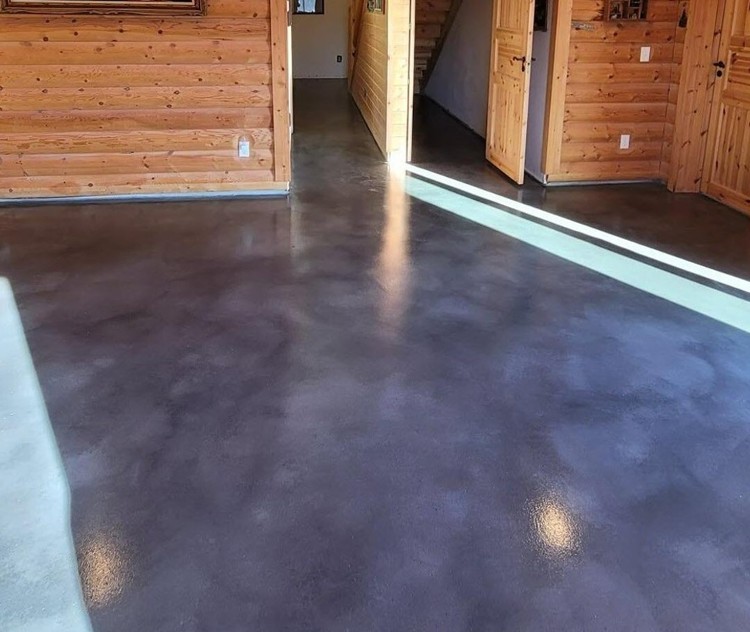 Create unique marble floor colors with practically unlimited custom stain options
Polished concrete mimics marble flooring brilliantly
Polished concrete floors can replicate the look of high-end polished marble flooring without adding any additional product, waxes, or topical coatings. Choose your desired degree of shine and smoothness for exactly the look you want, including honed marble with less shine. Polished concrete is harder and stronger than other floor finishes and creates a more slip-resistant surface. Concrete stain colors can be integrated with polishing to achieve desired color effects for the true look of marble.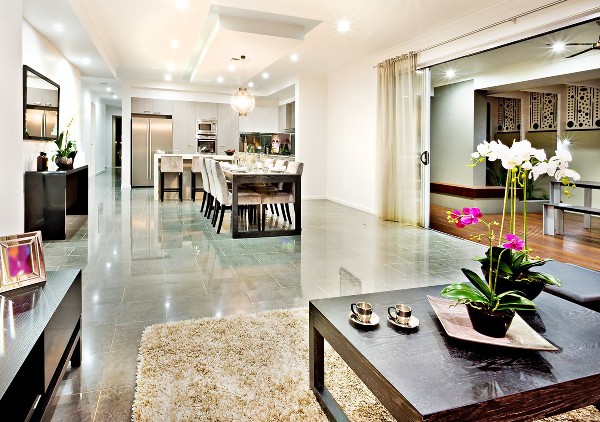 Enjoy the ultimate high-luster, no-wax flooring option and will not chip, wear, or deteriorate
Benefits of our decorative concrete floor finishes
In contrast to the challenges of real marble flooring, a decorative concrete floor finish is a serious contender for saving the day and your wallet. Our faux marble finishes cost a fraction of what real marble costs, plus there's the time savings of quick installation, minimal long-term maintenance requirements, and the durability of a floor that will last for decades without requiring repair and replacement. Product is mixed onsite, to measure, so there's never any overruns or excess to worry about.
A dry dust mop and occasional wet mopping with a neutral-pH cleaner is all you need to keep your floors shining and clean with no need for specialty cleaners.
Surfaces wipe clean of any spills without leaving a trace and the sealed surface repels dust and dirt build-up, moisture, bacteria, and mold growth.
You don't have to budget for long-term maintenance costs because the non-porous surfaces don't crack, chip, stain, or peel.
Nothing gets through the sealed surface to stain or mar the concrete floor, including food and drink, oils, and sticky substances.
In rooms where moisture can be an issue, like kitchens, laundry rooms, and bathrooms, it's perfectly safe to have decorative concrete "marble."
At most, heavily trafficked areas may require resealing after several years to restore the shine.
If marble flooring is your ideal but it remains in the realm of impossible dreams, the professionals at Concrete Craft can help with an amazing transformation of your concrete floors into marble look-alikes. You'll have all the beauty and elegance but with incredible cost savings and durability that real marble cannot match. Check out our MasterPro Product Catalog to see examples of marble floor finish colors as well as other beautiful decorative concrete finishes designed to transform your home or business. Call 888-852-9244 or go to www.concretecraft.com to find the Concrete Craft location nearest you and request a free in-home or virtual* design consultation.
*Virtual consultations may not be available at every location
Like us on Facebook and follow us on Instagram for fresh, new flooring design ideas.