Why Your New Year's Resolutions Should Include Decorative Concrete Floors
It's that time again for New Year's resolutions, promises we make to ourselves to be better in the new year. If you're stuck figuring out some 2022 resolutions for yourself, online gurus propose lists of meaningful New Year's Resolutions at all-time highs of 30, 45, 70, or a whopping 100+ individual resolutions! If that makes you want to run screaming back to 2021, hold on. These extensive lists are merely fine-tuned suggestions that fall right in line with the most universal and popular New Year's Resolutions of years past, including:
Get fit, exercise more, lose weight, eat healthily, stop drinking or smoking (Have you heard that sitting is the new smoking?)
Get organized
Save more money, spend less money
Learn a new skill or hobby
Live life to the fullest by spending more time with family and friends, traveling, and reading
As strange as it may seem, new decorative concrete floors from Concrete Craft® can help you realize those New Year's resolutions in ways you'd never imagine! See what stained concrete, stamped concrete, and resurfaced concrete overlays can do for you in the new year.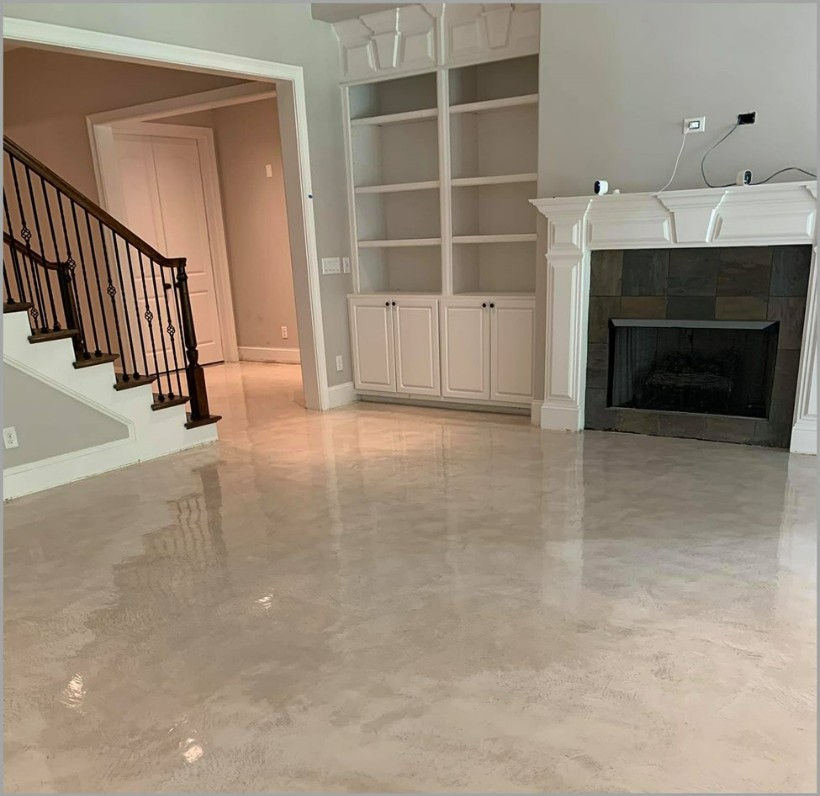 A seamless MarbleKoatTM decorative concrete overlay is one way to change your life by beautifully enhancing your home
A fresh new year is a good time to evaluate the last twelve months' changes and challenges and consider new ways to improve your life going forward. What worked before may not work now and changing up home space with new flooring can transform your life. Here are four scenarios where new decorative concrete floors can help you keep those New Year's resolutions.
One: Convert a small, carpeted bedroom into a home office with a stained concrete floor so that working from home is more productive and satisfying.
You'll be able to be more organized with a dedicated home office.
Getting your work done in less time can free up time to exercise regularly.
Removing dust-laden carpet creates a healthier environment.
Two: Create additional living space by remodeling the basement starting with a resurfaced concrete floor to accommodate a TV/game room, home gym, and craft and hobby area.
With a home gym, you save money on gym costs, and everyone in the family can
A craft or hobby area creates opportunities for trying out new interests and learning new skills.
Expanded entertainment space can increase get-togethers with friends—kids in the basement, adults in the living room, or vice versa.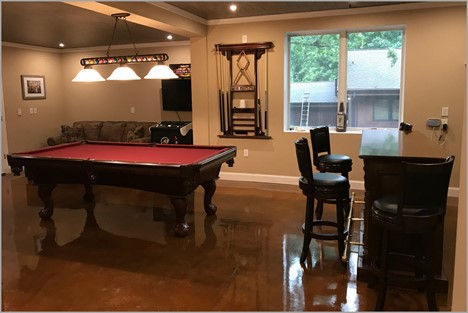 A converted basement can multiply functional living space and create opportunities for family fun and entertaining
Three: Modernize your home with faux stone and wood-stamped concrete floor designs or sleek polished concrete and MarbleKoat for an ultra-modern vibe.
Make a money-saving investment in your home with floors that won't need replacing after a few years.
Decorative concrete can replicate the look of higher-end finishes like marble, granite, hardwood, and luxury tiles for about half the cost of real materials.
Save money on floor maintenance since decorative concrete is easier to care for than carpet, tile, or real wood that requires unique cleaners.
Four: Realize the dream of a country kitchen with a Farmhouse style stamped concrete wood plank pattern.
It's a pleasure to prepare healthy meals in a beautiful kitchen you've always dreamed of.
Do more at-home entertaining in a welcoming kitchen that invites everyone to come and relax.
The nothing-sticks-to-it floor finish means less cleaning time; put your feet up and read that new book.
A friendly, easy-care kitchen will inspire good food and good times all year long
Rock-solid benefits of concrete floors
We've had some fun with New Year's resolutions, but the rock-solid benefits of decorative concrete flooring are absolutely true. Finding new ways of living in your home can make a difference and sometimes just one thing can be the catalyst for great change. Benefits you can count on with all our decorative concrete finishes include:
Decorative concrete that outlasts other flooring choices. You can expect a decorative concrete floor to last for decades, eliminating replacement every few years.
Enjoy authentic-looking designs of luxury tile, brick, natural stone, and wood plank with custom stained, stamped, and resurfaced concrete options, for both indoors and outdoors.
Save time and energy with the ultimate convenience of shopping in your home.; we bring the showroom to you.
Decorative concrete floors have an industry-tough sealer that protects the finish from spills of all kinds, moisture, dust, dirt, mold, and bacteria growth.
The finish is one continuous surface, including simulated grout lines and wood grains so cleaning is quick and easy with no crevices for dirt to hide.
Make the new year your year of change
Decorative concrete floors are the go-to floors to save money, time, and energy while enhancing your home with style, color, and incredible value. Contact us today or go to www.concretecraft.com to find the Concrete Craft location nearest you and request a free in-home or virtual* design consultation to see how you can take your home to the next level with new concrete floors inside or outside concrete surfaces like patios, driveways, pool decks, and walkways. Happy New Year from Concrete Craft and may 2022 be your best year ever!
*Virtual consultations may not be available at every location