Commercial Concrete Flooring
We have years of commercial concrete flooring experience, specializing in our proprietary resurfacing process over existing concrete, including stamping, staining, or polished concrete floors in high-profile reception areas, offices, salons, restaurants, and retail buildings where low maintenance, easy care, and durability are of the utmost importance. We offer a variety of colors, finishes, and design options, including customized logos to match your branding materials.
We stand on our reputation with commercial jobs.
Our stamp patterns replicate slate, stone, brick and even wood plank, which are perfect for restaurants and offices. Our hand-cut and custom-color approach to fabricating concrete to look like real flagstone or cobblestone is something we specialize in for concrete patios and courtyards. And our dozens of stain options and application techniques create unique looks to correspond with your brand. Best of all, most projects are overlays, so our jobs go faster, have less downtime and cost less than other materials.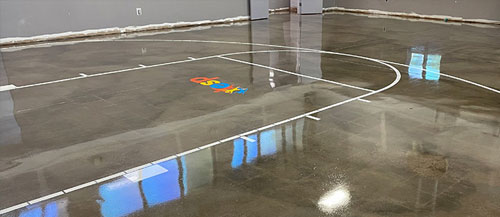 Durable
Commercial concrete floors are ideal for high-traffic environments because they withstand heavy foot and vehicle traffic and resist abrasions and stains. Concrete floors can also be given slip-resistant textures and finishes, and all of our concrete surfaces come with a two-year warranty*!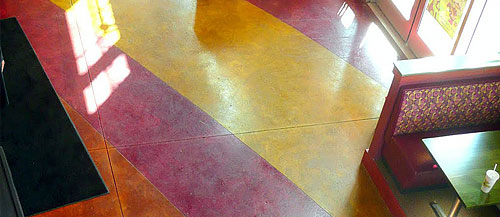 Affordable
Commercial decorative concrete floor installations are cost-effective when you already have an existing concrete slab that is ready for stamping, staining, or resurfacing with a decorative overlay. The price is often far lower than the cost of carpet, marble, or wood, and rarely requires replacing.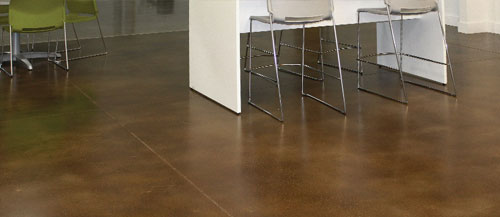 Low-Maintenance
Exterior concrete surfaces can be pressure washed or scrubbed with a mild detergent. Interior concrete floors repel spills, mold and allergens unlike commercial carpeting and other options. Concrete can be easily cleaned with a wet mop and neutral-pH cleaner. With proper care, concrete commercial floors can look the same after years of use.