Beauty That's Stamped in Stone
What is stamped concrete? Stamped concrete, commonly referred to as patterned concrete or imprinted concrete, uses rubber stamps designed from "real stone" molds to imprint the concrete to resemble natural brick, slate, cobblestone, tile, and even wood planks.
A Sampling of Stamped Concrete Patterns
Stamped concrete floors are a popular choice among our clients because we offer a large variety of the most lifelike stone concrete patterns on the market and have several options that are sure to suit your needs. Our stamped concrete patterns offer all the visual beauty of real stone, tile, and wood plank and since it's a sealed surface, it requires little maintenance. Spend less time maintaining and more time enjoying your home.
Roman Texture Slate (Gray)
Wood Plank
Perfect for patios and interiors
Cut Cobblestone
Ideal on walkways or driveways
Brick
Great option for exteriors and interiors
Compass Design
Fun for patios and driveways
Popular Gecko, Sea Turtle and Kokopelli
Flagstone
Popular for patios and pool decks
1 of 8
Ashlar Slate - Camel
2 of 8
Roman Texture Slate (Gray)
7 of 8
Popular Gecko, Sea Turtle and Kokopelli
How are stamped concrete patterns created?
Stamped concrete patterns can be applied as an overlay that goes over your existing concrete slab, or can be imprinted into freshly-poured concrete before it hardens. Either way, our stamped concrete patterns are able to mimic more expensive materials beautifully to enhance the look of your exterior patio, pool deck, driveway, walkways and interior floors.
Our decorative colors and stamped concrete patterns look natural, authentic, and can be designed to easily blend with any existing stone, tile, or patterned concrete. Our highlighting and antiquing products utilize the latest UV technology to resist fading and, in combination with our top-of-the-line sealers, you'll be able to enjoy your low-maintenance, easy-to-clean, living spaces that are an affordable alternative to natural stone, for many years to come.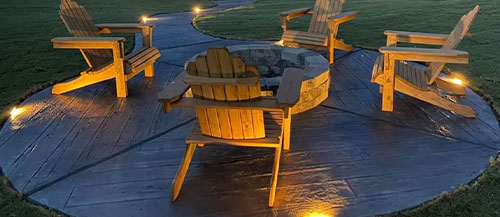 Added Value
Stamped concrete is an economical alternative when thinking about renovating your home. With the ability to apply decorative stamped concrete on floors or vertically, the options to update and add value to your home is endless.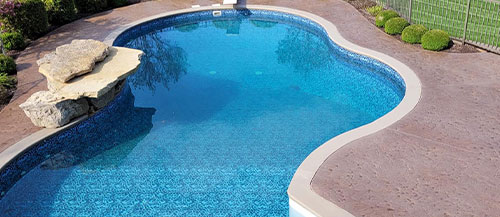 Easy Installation
Stamped concrete floors can be particularly easy to install if your concrete slab is in good condition. When projects are an overlay over existing materials, jobs go a lot quicker with less mess and upheaval.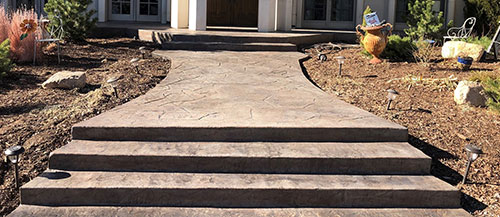 Low-Maintenance
Our stamped concrete has no joints or spaces for weeds or mold to grow. Simply sweep and wash surfaces occasionally to avoid dirt buildup. Exterior surfaces can be pressure washed or scrubbed with a mild detergent.