Awaken Your Concrete's Full Potential with Concrete Resurfacing
Cover up imperfections in your existing concrete or turn your plain slab into something fabulous! With resurfaced concrete, commonly referred to as a concrete overlay, decorative concrete overlay, or concrete coating, we can give your interior and exterior concrete floors, patios, walkways, driveways, retaining walls, accent walls, fireplaces, and more, a full makeover at a much lower cost than removal and replacement.
A Sampling of Resurfaced Concrete Options
Our craftsmen offer a wide array of options when it comes to patterns and color options. Our proprietary hand-cut and custom-colored approach to fabricating stone and faux stone siding allows us to emulate the look of natural rock, including flagstone and cobblestone, or choose from a variety of stamp patterns including brick and wood, or even a simple "broom-swept" finish.
Wood Plank
Perfect for patios and interiors
Cut Cobblestone
Ideal on walkways or driveways
Brick
Great option for exteriors and interiors
Popular Gecko, Sea Turtle and Kokopelli
Flagstone
Popular for patios and pool decks
Roman Texture Slate (Gray)
1 of 15
AggreKoat - Cloud
2 of 15
AggreKoat - Charcoal
3 of 15
AggreKoat - Leather
4 of 15
AggreKoat - Brick
5 of 15
PebbleKoat - Brownstone
6 of 15
PebbleKoat - Frost
7 of 15
PebbleKoat - Midnight
8 of 15
PebbleKoat - Sandcastle
9 of 15
Ashlar Slate - Camel
13 of 15
Popular Gecko, Sea Turtle and Kokopelli
15 of 15
Roman Texture Slate (Gray)
Concrete Resurfacing Vertical Options
Vertical concrete overlays are the ideal way to enhance your home with the popular look of stone, rock, and wood finishes, inside and out, for basements, family rooms, kitchens, patios, fireplaces, siding, retaining walls, and more. Our concrete artisans are experts in applying vertical resurfaced concrete overlays throughout your home, creating a three-dimensional surface that can change the dynamic of any space.
Tight Stack
Perfect for shower stalls
Hand Scored Limestone
Grouted for a natural look
1 of 6
Hand Carved Castle Rock
5 of 6
English Cobblestone
6 of 6
Hand Scored Limestone
Our concrete resurfacing products have been designed and engineered to stand the test of time. Our exclusive MasterProTM concrete resurfacing overlay system includes performance-grade polymer and aggregate mixes for a superior product. The quality of our concrete resurfacing mixes is controlled from testing to production, ensuring that our concrete overlays will produce a smoother, stronger, more durable and long-lasting bond to your concrete surfaces.
We also specialize in resurfaced vertical concrete overlays that can be applied over wood, drywall, brick, and concrete to create beautiful faux stone siding for your fireplaces, chimneys, retaining walls, and more. Our fiber-enriched coarse sand overlay mix creates a realistic surface that requires minimal upkeep. Our coloring system offers UV protection, and, in combination with our sealers, creates a lasting surface.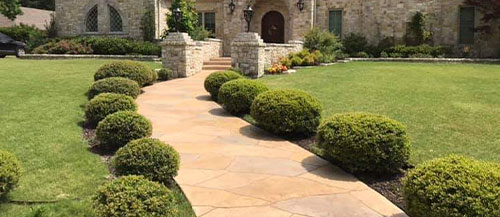 Exclusive
In addition to our "real stone" molds, we've developed a cutting-edge system that allows us to create a finish that simulates real stone. Our hand-cut and custom-colored approach to fabricating the stone is the envy of our industry. Each cut is shaped to have the look and feel of natural stone like flagstone, cobblestone and more.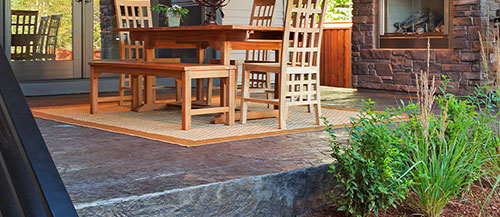 Cost-Effective
Resurfaced concrete can save you a great deal of money when compared to the cost of demolition and replacement of your existing concrete floors. If your concrete is in good condition, we can apply a concrete overlay with stained, stenciled, or stamped design to improve the appearance, at half the cost of other materials.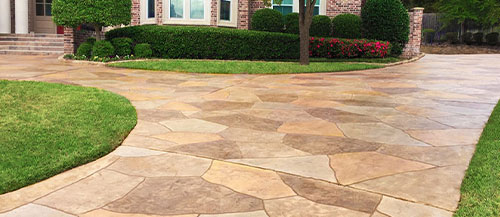 Less Mess
Most of our jobs go quicker and offer less mess and upheaval than new projects. All without big trucks involved to clutter up your driveway or yard! If your existing concrete is in good condition, we can repair cracks and apply a decorative resurfaced concrete overlay that improves the strength and appearance.