Hardwood Without the Hassle: Stamped Concrete Designs to Elevate Your Home
Whether you're building your dream home or renovating your current house, you probably have a huge list of decisions that you need to make. One of the decisions you need to make is the type of flooring that you want in your home.
Carpeting is one option. However, it requires a lot of care and stains easily. Another choice is hardwood flooring, but it can be expensive, easily damaged, and wear quickly based on traffic.
One option you might not have considered is concrete flooring. You're probably envisioning cold gray concrete on your floors, but this is a complete misconception. Stamped concrete designs are anything but cold or grey and can elevate any room's appearance.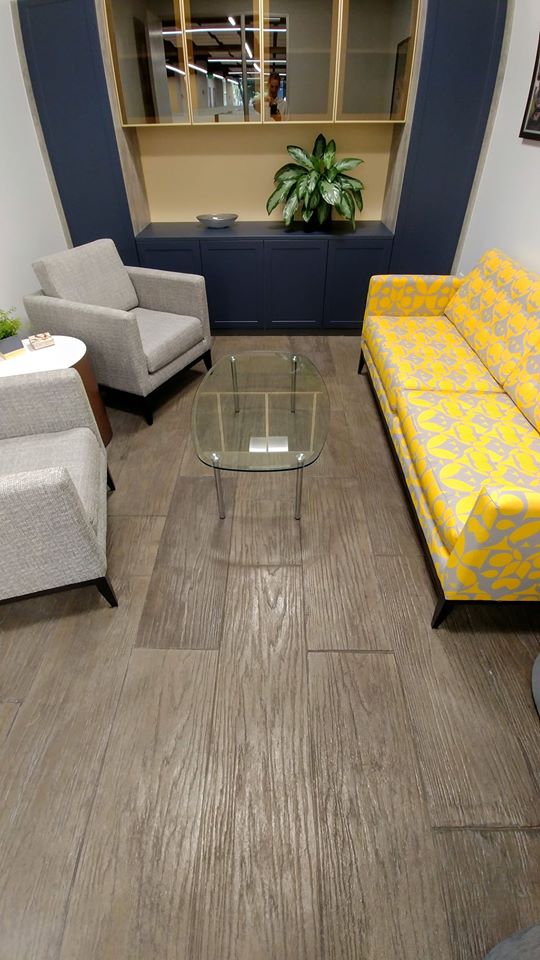 How are stamped concrete designs installed?
In the past, concrete was poured into the desired space, smoothed, and left to dry. Today, you can use concrete on your floors, countertops, fireplace, and so many other places. Plus, you can choose from an almost unlimited palette of colors.
Once the concrete is poured, it's hand-troweled and polished to give it a finished look. If you've selected a color, the color is stained once the concrete has been set. For stamped designs, the stamps are used after the concrete is poured and stamped before it fully dries.
Stamped concrete needs a professional to carry out this type of detailed work. Pouring concrete is hard, detailed work, and the stamps need to be applied properly. One small error can drastically affect the finished product. You're likely to spend more money having someone repair your work than you would have by hiring a professional from the beginning. Stamped concrete can be installed in a single day, making your life easier.
Best stamped concrete designs to consider
Stamped concrete is a versatile option for your home's flooring and beyond. If you aren't currently renovating your floors and want to make a few design changes, you can use stamped concrete designs to make a statement.
Stamped concrete designs and color blending can turn a lackluster fireplace into the centerpiece of any room. These stamped designs can be incorporated into any existing design style from modern to farmhouse.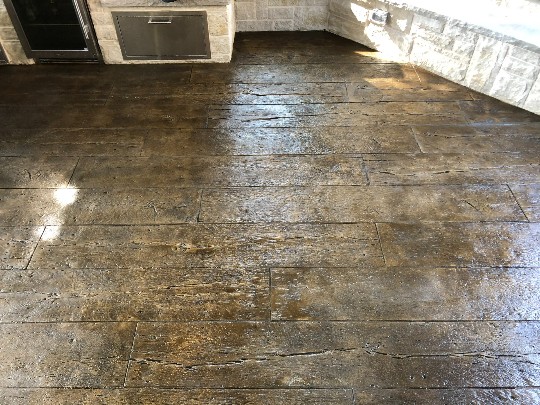 Here are a few of the most popular and recommended stamped concrete designs:
Ashlar Slate

Wood Plank

Brick

Hand-Scored Limestone

English Cobblestone

Hand Carved Stone

Hand Carved Castle Rock
When you opt for stamped concrete flooring, you can get the same look as hardwood without the price tag or fragile flooring. These designs also add texture and warmth to any space.
Benefits of stamped concrete designs for flooring
When it comes time to pick a flooring material, it's essential to find the best one for you. After all, flooring in your home lasts for a decade or better. You need to know the benefits of stamped concrete designs for flooring before you make a final decision.
Durability
If you've done some research, you already know that hardwood floors can be easily damaged and scratched. You have to treat them with extreme care, or you'll end up with damaged floors. If you have pets or children, your hardwood flooring will be quickly worn down as they move through the space. Humidity and water spills can affect the overall lifespan of your hardwood floor as well.
Stamped concrete is a much more durable material for flooring. You won't need to worry about moisture, scratches, or stains like you would with hardwood. Concrete will provide you with peace of mind so you are not in constant fear of a spilled glass of water or your pets running through your home.
Easy to clean and maintain
It's often a challenge to clean hardwood floors. You need the right products, and then you need to ensure that you don't leave too much water behind. In fact, it's always best to dry hardwood floors after mopping them.
To maintain your hardwood floors, you need to provide a seal to protect them. You'll need to reapply the seal every couple of years. If you experience any damage, such as stains or scratches, you have to sand the floors and reseal them.
With stamped concrete floors, you can sweep and mop them like you would a laminate floor. Also, if you choose to add a sealant for a glossy shine, the only maintenance you need is regular cleaning.
Whether you install concrete floors in your basement or throughout your home, you'll find the cleaning and maintenance a lot easier than you would with hardwood flooring.
Longevity
With minimal hassle and the occasional deep cleaning, your stamped concrete floors can easily last a couple of decades. It's clear that carpeting or hardwood won't last that long.
While you might be able to get a decade out of your hardwood flooring, it's going to take extensive maintenance and upkeep. The flooring in your home is an investment, and you want to invest in a flooring material that's going to offer you longevity.
Value
Stamped concrete floors are less expensive than natural hardwood floors, and even some laminate hardwood floors. You can save hundreds of dollars by choosing concrete flooring, especially if you're planning on redoing or installing flooring throughout your home.
One of the easiest decisions you can make about flooring is to choose concrete as the material. With the ability to add color and stamped designs, concrete flooring adds elegance and style to any design style. The durability and maintenance regimen makes this type of flooring a smart buy. Use our guide to learn more about stamped concrete designs and see the possibilities. When you're ready contact us today for your free consultation.