Make it Pop: Concrete Designs That Go Beyond the Grey Slab
Concrete has been an excellent flooring material for many years. It is extremely common in outdoor spaces, covering pavements, car park floors, and commercial floorings. Chances are you have always considered concrete ideal for utilitarian surfaces and overlooked its value as a decorative flooring option.
The techniques of decorating and installing these floors have evolved over the years. Concrete is now a versatile material adaptable to different designs. Its ability to take on polished sheen or color and other benefits ultimately make concrete ideal for your new home projects.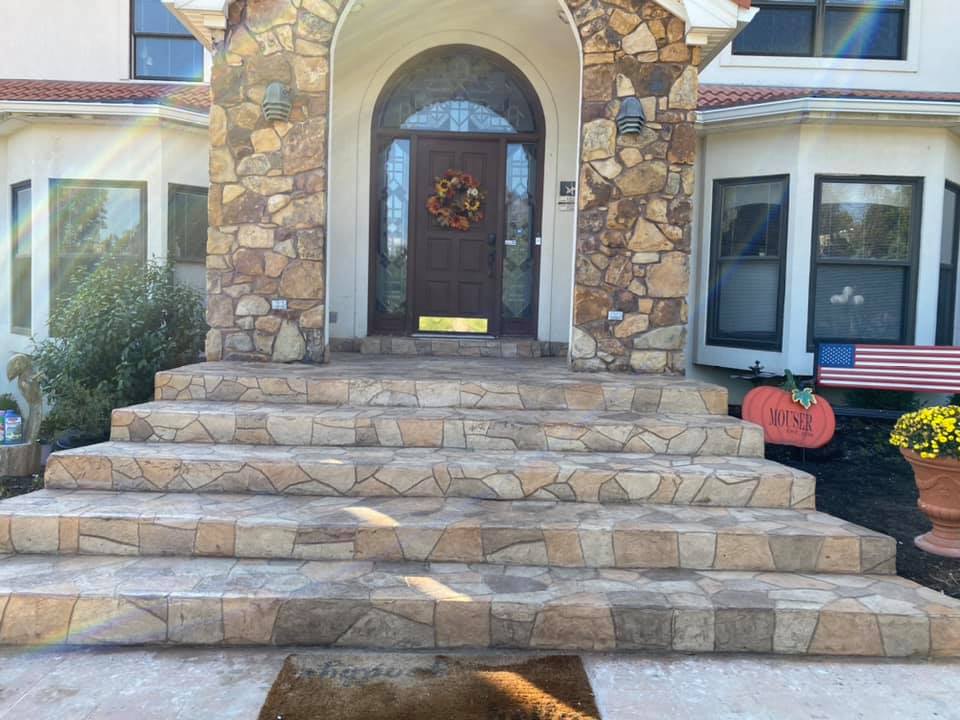 Stamped concrete
Stamped concrete, also known as textured concrete, is a variant of concrete designed to form patterns that resemble slate, bricks, wood, slate, and bricks. It is available in multiple finishes and acts as a cost-effective and sustainable alternative to natural stone or brick. Stamped concrete also offers a pleasant variation from laying conventional concrete used in living spaces.
Stamped concrete is given life through the rich stains that Concrete Craft offers. Stained concrete offers the luxury of rich colors without the price tag.
Incorporating stamped concrete into a building
Cobblestone
Replicating the natural hand-cut design of cobblestones, this pattern cleverly imitates the irregular and rounded corner patterns found in nature. The random interlocking pattern of this concrete design makes it suitable for entryways, staircases, and even vertically around your fireplace.
Wood
Faux wood captures the texture and feel of wooden planks, down to the tree rings present in the design. It's a great option if you want the look of hardwood but the durability and price of stamped concrete.
Antique
The antique design includes realistic shadows and makes it a perfect choice for spaces with a conventional feel. Additional hues scattered across the flooring also highlight the accents and texture on concrete, enhancing the room's depth.
Sandstone
This stamped concrete design is a light-colored and large stone, perfect for incorporating a touch of charm and elegance to poolsides and patios. It has a random interlocking design imitating real hand-cut sandstone, which enhances the visual appeal of the flooring.
Stained concrete
Staining concrete is a highly versatile and economical way to transform the look of new and existing patios and floors. Stained concrete is unique from other flooring methods in that it is tough, and the stain won't chip, fade or crack. The cement is durable, allowing the stain to remain for long and bring a magnificent look.
Besides, concrete stains have tiny particles that enter deep into the concrete surface and produce fade-resistant color. The color is permanent and won't peel away or flake off like paint or coating.
Two types of stains are available, which you choose depending on the appearance you want.
Acid-based stain
Acid stains enter and react with the concrete to create natural color variations that add unique mottling effects and character. The resulting finish appears like granite or marble. However, there is a limit on color selection to subtle earth tones such as terra cotta, browns, soft blue-greens, and tans with acid stains.
Water-based stain
Water-based stains offer more than the subtle color palette of acid stains. They come in a complete spectrum of shades which can give broader options when mixed. While shades of gray and brown are the most popular colors for stained concrete floors, you can also try bolder shades such as black or blue.
Resurfaced concrete floor
Concrete resurfacing involves making old concrete appear new again by applying a coating over the existing surface and providing a variety of texture, color, and pattern options. It is ideal for cosmetically marred concrete structures or slab surfaces that are still in good shape.
That includes covering flaking of small parts of concrete surfaces, fixing cracks, hiding surface imperfections, covering unsightly concrete, and addressing discoloration. You can select different patterns or color options for your concrete resurfacing. You can also engrave or stencil as the concrete is already in good condition and only needs a facelift.
Polished concrete floors
People associate polished concrete floors with modern luxury spaces. They have become some of the most common flooring solutions for luxury home construction. Polished concrete has a smooth, reflective surface that invites a spectacular array of options for scoring, coloring, and creating radial lines, borders, bands, grids, and other designs.
You can enhance an already existing polished concrete by applying stains and dyes. Since polishing is a multistep process, you can settle on the level of sheen from high gloss to satin that meets your aesthetic and maintenance standards. That way, polished concrete is a suitable ideal flooring material for various applications.
Benefits of concrete designs

Cost-effective
Concrete flooring costs less than other floor options such as tile and wood. You can treat and polish slabs with various colors and effects, so they match your building interior without overextending your budget.
Additionally, insulated types of concrete can help lock warm or cold air in your room. That way, you lower energy costs since your air conditioning unit won't need to run as often.
Endless design options
Concrete floors come with endless design options. You can use different textures and stains to create any design, from tile or stone appearance to a grain and plank texture that mimics real wood.
Sustainability
Insulated concrete floors curb unnecessary energy usage but also help the environment. Besides, using existing concrete is a great way of styling a building without harming the environment. Concrete is recyclable, and even the most cracked and worn down slabs can be crushed to form new pieces.
Easy to maintain
Concrete floors are easy to maintain. Casual cleaning can involve sweeping over slabs with a microfiber pad to remove dirt particles that cover the floor shine. A more thorough cleaning would require mopping with soapy water. You spread the cleaning solution over the surface and then use a wet mop to rinse off.
Make it pop!
Concrete design possibilities are endless. Don't stick to the grey stones and blocks that have dominated the floors for decades. Dream and visualize the visual appeal you will enjoy from selecting decorative concrete for your commercial improvement project.
Reach out to us for a free consultation today.